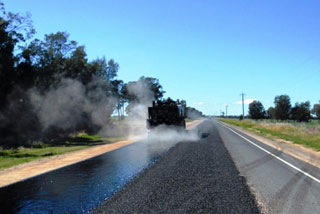 PAVEMENTS – Recycled car tyre rubber in spray seals and asphalt
NACOE Project Number: P31 and P32
Contact email: info@nacoe.com.au
Project Stage of Completion: 100%
End-of-life vehicle tyres are a potentially valuable resource for recycling.  However, at present, most tyres in Queensland end up in landfill, are dumped, or are exported overseas.  Rubber and carbon black represent approximately 70% of the weight of a tyre, and one potential high-value application for these materials is as crumb rubber modified (CRM) bitumen for use in road construction.

The use of CRM binder in both asphalt and sprayed seals can lead to much improved field performance. CRM binder has been extensively used internationally but has been largely confined to use in seals and only in some parts of Australia. NACOE has fostered a joint funding arrangement with Tyre Stewardship Australia (TSA), the Queensland Department of Environment and Heritage Protection (DEHP) and industry, with the goal of significantly increasing the use of CRM binders in asphalt and seals throughout Queensland.  

The project completed a review of the various applications for CRM, performance benefits, and barriers to implementation. Demonstration projects have been completed for CRM binder sprayed seal, CRM binder in both open-graded and gap-graded thin asphalt surfacings.

While this project is expected to produce widespread environmental benefits through the recycling of waste tyres, there is also a potential saving in binder costs and evidence of improved performance with CRM products. At an estimated saving of 6% to 10% in binder costs alone, the department could be expected to save $1–2 million per year in sprayed sealing works across the regions. In fact, resealing programs are already heavily focused on utilising rubberised seals across regional Queensland.

Savings from utilising CRM binder in open-graded and gap-graded asphalt mixes are expected to deliver further benefits, expected to include improved durability, UV resistance, reduced noise and water spray, and overall sustainability and environmental outcomes. 
Better understanding of the behaviour of deck unit bridges (40% of TMR bridge stock) in various scenarios including in-service, under high loads and with
deficiency of structural components
Provision of basis for TMR to review and calibrate the assessment methodology of existing structures using field measurements
Improved confidence in the performance of deck unit bridges.