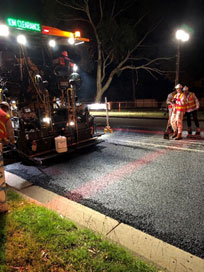 PAVEMENTS – Assessing the Potential Greenhouse Gas Emissions Reductions and Sustainability Benefits of Innovative Pavement Solutions
NACOE Project Number: P106
Contact email: info@nacoe.com.au
Project Stage of Completion: 95%
A number of innovative pavements are developed under the NACOE Program and TMR is doing its part to reduce its greenhouse gas emissions. TMR is also requiring that all major infrastructure projects undergo an Infrastructure Sustainability Council Australia (ISCA) lifecycle sustainability rating. The rating system assesses infrastructure over four sustainability criteria i.e. economic, social, environmental and governance.  
 Five innovative pavement technologies were assessed for their greenhouse gas reductions over the pavement lifecycle and compared to a business as usual base case. Designs were developed for both an urban road and rural road application. These innovative pavement technologies included EME 2, Recycled Asphalt Pavement, Crumb Rubber Modified Asphalt and Sprayed Seals, Foam Bitumen Stabilisation and Marginal Materials. Key reportable metrics from the modelling included total lifecycle greenhouse gas reductions (CO2-e) and reductions by lifecycle stage. The lifecycle Net Present Value (NPV) was also assessed, including a carbon price, so that the externality cost was incorporated into TMR's decision making.  
 The majority of the technologies achieved greenhouse gas reductions and cost savings in the right context, as well as other benefits like the use of recycled materials and diversion from landfill, and the promotion of a local circular economy. A number of sensitivity and scenario analyses were also done including but not limited to road alignment, traffic controls, resilience to flood event, electric vehicle and haulage distances and the incorporation of a landfill levy. The findings of this project will help promote the uptake of these innovative technologies across Australia.